F
requently
A
sked
Q
uestions
Q.
How much is it to rent a frozen drink machine?
A. Price is $110.00, which includes a single frozen drink machine, One ½ gallon bottle of mix, 50 - 9 oz. cups, 50 straws, 5-gallon mixing container, a heavy duty Rubbermaid cart (with a fitted skirt of your choice), a salt rimmer and salt (if needed), and an extension cord. You must be at least 18 years old with a valid State ID, Driver License, or Government picture ID to sign the Rental Agreement at time of delivery. A Double machine is also available at a rate of $160.00 which includes Two ½ gallon bottles of mix. Each additional bottle of mix is $20.00. We usually leave 1 extra bottle of mix as a "just in case" at no charge unless it is used. Any unused, unopened bottles we leave are returnable. It is better to be prepared with extra mixes and keep the delicious frozen drinks flowing. We offer free local delivery/set-up/pick-up (an additional charge for delivery outside of our local delivery area will apply).
Q. Are the machines easy to use?
A.
Yes! At delivery we show you step by step machine operation and refilling procedures to ensure a successful event. Easy to follow instructions are always left behind for reference. We mix your first batch and show you how to mix the second mix. These machines are extremely fun to have at your party and have caused many customers to become addicted to them. For this reason we have many repeat customers! Put your blender up for the party.
NO BARTENDER REQUIRED

NO ICE REQUIRED
Q. What kind of power do the frozen drink machines require?
A. Each single dispensing machine requires a 15 amp dedicated 110 volt circuit. Each double dispensing machine requires a 20 amp dedicated 110 volt circuit. Electricity is the most important part for a machine to function properly. A 20 amp outlet refers to the size of the breaker that turns the power on and off to the outlet or outlets it supports. Breakers in the breaker box are always labeled with their designated amperage. Dedicated means there are no other items or appliances drawing electricity from that breaker. Common items that draw large amounts of electricity are microwaves, refrigerators, toasters, blow dryers, dishwashers, washer/dryers, and air conditioners.

Heavy gauge extension cords are provided with each frozen drink machine rental. Please do not use any other extension cords without our approval. Total cord length should never exceed 100 feet.
Q. Do I have to clean the machine after my rental?
A.
No. We disassemble and sanitize EVERY machine after each rental.
Q. How many drinks does one 1/2 gallon mix yield?
A. Most 1/2 gallon mixes yield about 65 8 oz. drinks. Our real fruit non-alcoholic 1 gallon slush mix will provide 80 8 oz. drinks. Our experience shows that usually half or more guests drink the frozen drinks even if you offer several beverage choices. We recommend one mix for every 25 frozen beverage drinkers.
Each Extra mix is $20.00 or $30.00 and are refundable if unopened.
Mix Servings to Cup Size (Click to download)
Q. How long does the first batch take?
A. Indoors about 30-45 minutes, outside on warm days, up to an hour and half. There is no waiting between batches because you add to the hopper when the mix gets low. Keep the machine in the shade during the daytime and away from water if it rains.
We usually arrive 2 hours before your event to set-up.

Q. Who provides the liquor and how much will I need?
A. The customer provides all the liquor. We can tell you the type and amount of liquor to purchase at the time of reservation or download and print our liquor recommendations below. Please have liquor available when we deliver. Don't buy too much beer or wine because 60% of guests will usually choose a frozen drink over beer and wine.

Island Breeze Liquor Recommendations (Click to download)
Q. Are other kinds of mixes available?
A. Absolutely. You can serve Top Shelf Lime Margaritas, Strawberry Daiquiris, Strawberry Margaritas, Pinã Coladas, Peach Bellinis, Hurricanes, Mai Tai, Hard Lemonade, and Rum Runners.

Click here to view Mixes/ Mixing Instructions
WE ALSO HAVE REAL FRUIT KID SLUSHES AVAILABLE!
Island Breeze Liquor Recommendations (Click to download)
Q. How far in advance should I reserve my machine?
A. We recommend 2 weeks or earlier for holidays and traditional party dates like Memorial Day, 4th of July, Labor Day, and Halloween. A second machine is strongly recommended for large parties, otherwise the machine will not perform properly.
WHAT WE RECOMMEND FOR YOUR FESTIVITIES
| | | |
| --- | --- | --- |
| 0 - 50 Guests | 1 Margarita Machine | 1 to 2 mixes |
| 50 - 100 Guests | 1 Margarita Machine | 2 to 3 mixes |
| 100 - 150 Guests | 2 Margarita Machines | 3 to 4 mixes |
| 150 - 300 Guests | 2 or 3 Margarita Machines | 4 to 5 mixes |
Q.
Do your rentals include free delivery and pick up?
A. Free delivery and pick up is for orders over $120.00 and within 20 miles of our location. Free delivery and pick up includes door to door on ground floor with no stairs such as garage, front door, or driveway. Items will be picked up from same location as delivery. Tables and chairs must be folded, stacked in one location, and cleaned when they are picked up or there will be an additional $25.00 charge. Any missed scheduled delivery or pick up will incur an additional $25.00 charge.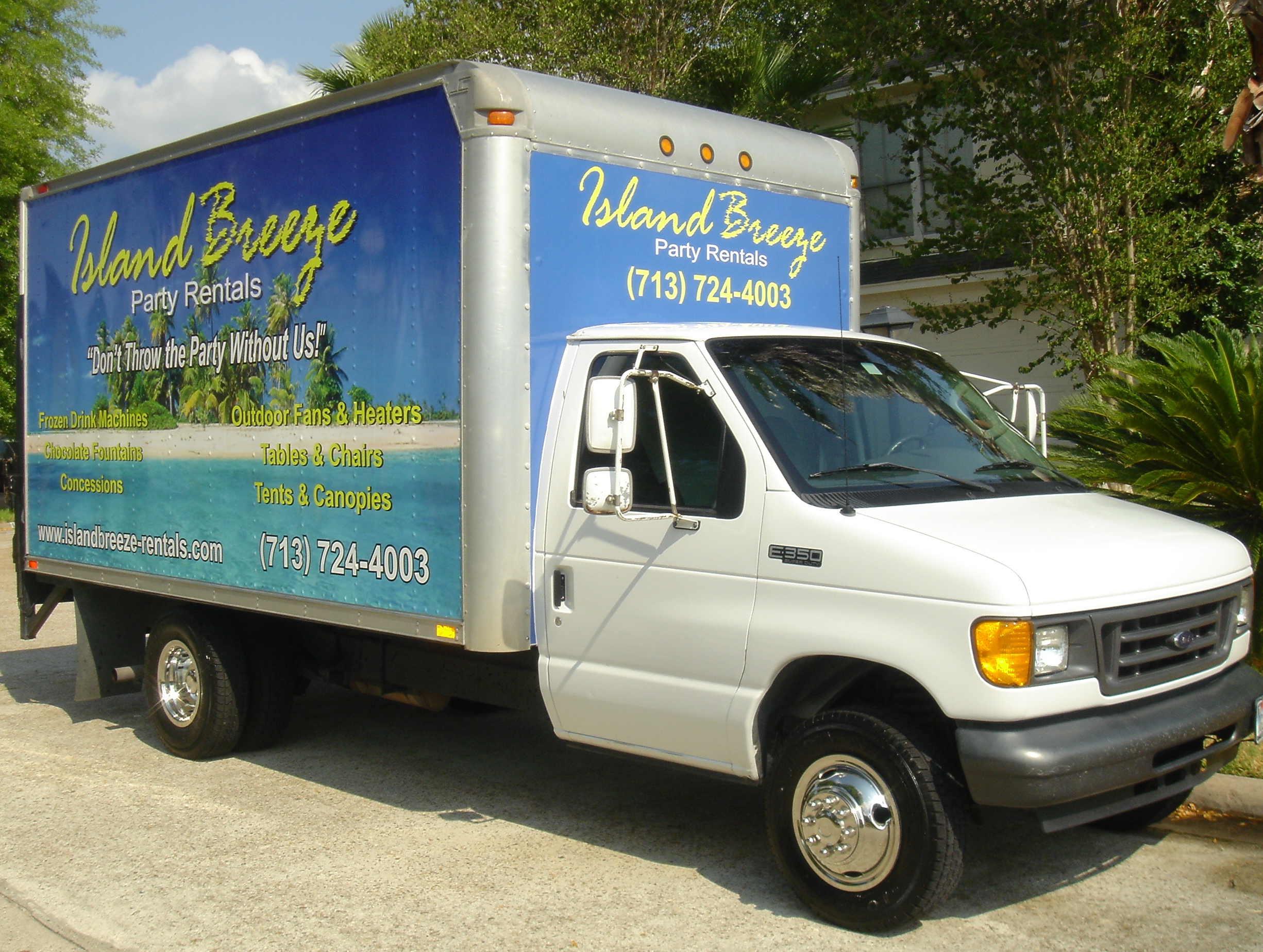 Q. Can I pay to have canopies, tables, an chairs set up?
A.
YES. If you prefer to have someone set up our canopies, tables, and chairs we can arrange for this service with a 2 week advance notice.